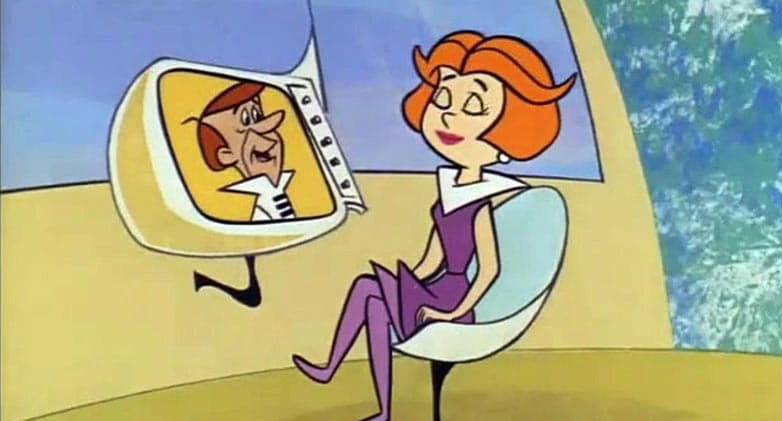 As a young boy, I remember watching films and cartoons showing characters beamed onto their TV screens for a video chat. This was a futuristic concept back then, but nowadays it's an everyday occurrence making video calls through Skype, FaceTime, Google Hangouts or a host of other platforms. 
The problem now is that it's an interruption, people aren't always prepared to have a video chat at a moment's notice. This leads to the issue of arranging video calls – with busy/conflicting schedules, this can be a pain. This problem existed with phones initially, so then came the voicemail system, allowing for messages to be left with the receiver to be listened to at their own leisure. The future of video communication will replicate this through asynchronous video messaging. This is still in the early stages of use, with apps like Snapchat being used on a social level. It's only a matter of time before businesses start to realise the benefits and make this the professional norm.
Asynchronous Video – Video messages sent ad hoc, usually as part of a conversation or message chain
Asynchronous video is the new alternative to face to face communication, and is only becoming more useful as technology improves. The obvious development is in smartphone cameras and microphones, making it possible to record and send HD videos without any extra equipment. The main technology shift that supports this, however, is artificial intelligence. Live transcription increases accessibility to your messages, while removing the work of typing out a long email. Sentiment analysis helps show how a message is being presented, allowing users to understand the emotions involved in video, which can add value in new and unseen ways.
Along with the time reduction from live transcriptions, there is a lot to be gained from switching from emails to asynchronous videos. Emails aren't personable. Emails are quite often misunderstood and create extra unnecessary work. In the near future we can expect to see video messages surpass emails as the main form of communication in offices. We will look back and think "why did we ever type those long laborious emails when a video could be done five times quicker and much more effectively?" 
Clearly the 'video revolution' has started, with companies like Zoom growing in popularity. To go one better though is to offer asynchronous video, which is what Watch and Learn offers. On Watch and Learn you can send video messages on the mobile app or via the web with full transcription automated. This gives the recipient the ability to watch when they want, and the function to reply with video, voice, or even text.
Hopefully the excuse of "you misread my email" will be made history.
Join the video revolution now