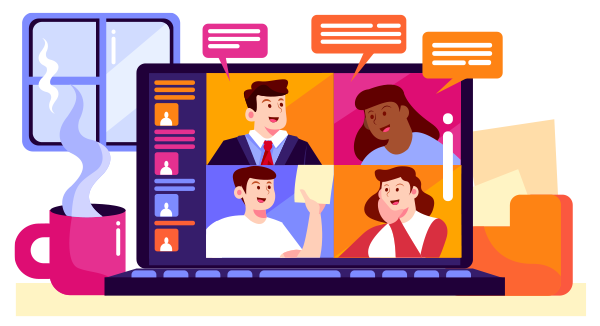 In a time when learning is happening online as well as in the classroom, you need a space to adapt to the new virtual learning environment. Watch and Learn makes remote learning a breeze. I mean it's in the name! Have your classroom, resources portal and message boards all in one place. Virtual learning made easy with our intuitive calls and message boards. With nothing to download and our GDPR compliant portal, you can run your classes swiftly and securely.
Video calling
Now that classes have gone virtual, you need high quality video calls that students can access with ease. Watch and Learn makes video calling simple. Host group calls for lessons, or video call for one-on-one feedback sessions. No need to send invites or wait to be let into a call. The live chat feature means students can ask questions without interrupting the lesson. Start calls with a click of a button by selecting the name of the individual or the group.
Share your screen
When you can't be in the same room, sharing your screen is the next best thing. You can screen share on video calls. Walk your students through online exercises, or talk them through past exam papers in real time. Alternatively, pre-record presentations with the Screen Casting tool. Don't worry if you don't get it first time, as you can re-record if there is any sound interference. Create an instant revision resource to send to group chats or individuals. Apt for visual, auditory and linguistic learners.
Online debate team
Encourage discussion and debate with our video, audio and text messaging. Students can record their presentations with the video message tool, or create a class podcast with the audio messaging app. All video and audio recordings are prepped with automatic transcription, which you can edit before sending. No need for students to rewind, as they can lift straight from the text. It aids communication for students of all abilities and levels of English. Share links, send exercise sheets and record feedback with our integrated message boards.
Analyse
Keep up to date on everyone's progress with Watch and Learn's Analytics tools. Review student progress with the Plays tab to see which content has been viewed the most. See which groups need the most attention by tracking your own engagement with the Popular Groups and Chats tab. Or, get a visual representation of what's been covered with the Word Usage feature.
When there is pressure to prefect your lesson plans, and to teach outside of the classroom, you need a site that can help you lighten your load. With an easy to use platform, Watch and Learn makes remote learning simple. Host online classrooms and share learning materials all on one site. Easy to access from a desktop, laptop or mobile device, Watch and Learn is handy for those that need to share devices. Make your at home class room even more accessible.
Find out more on our Education page.