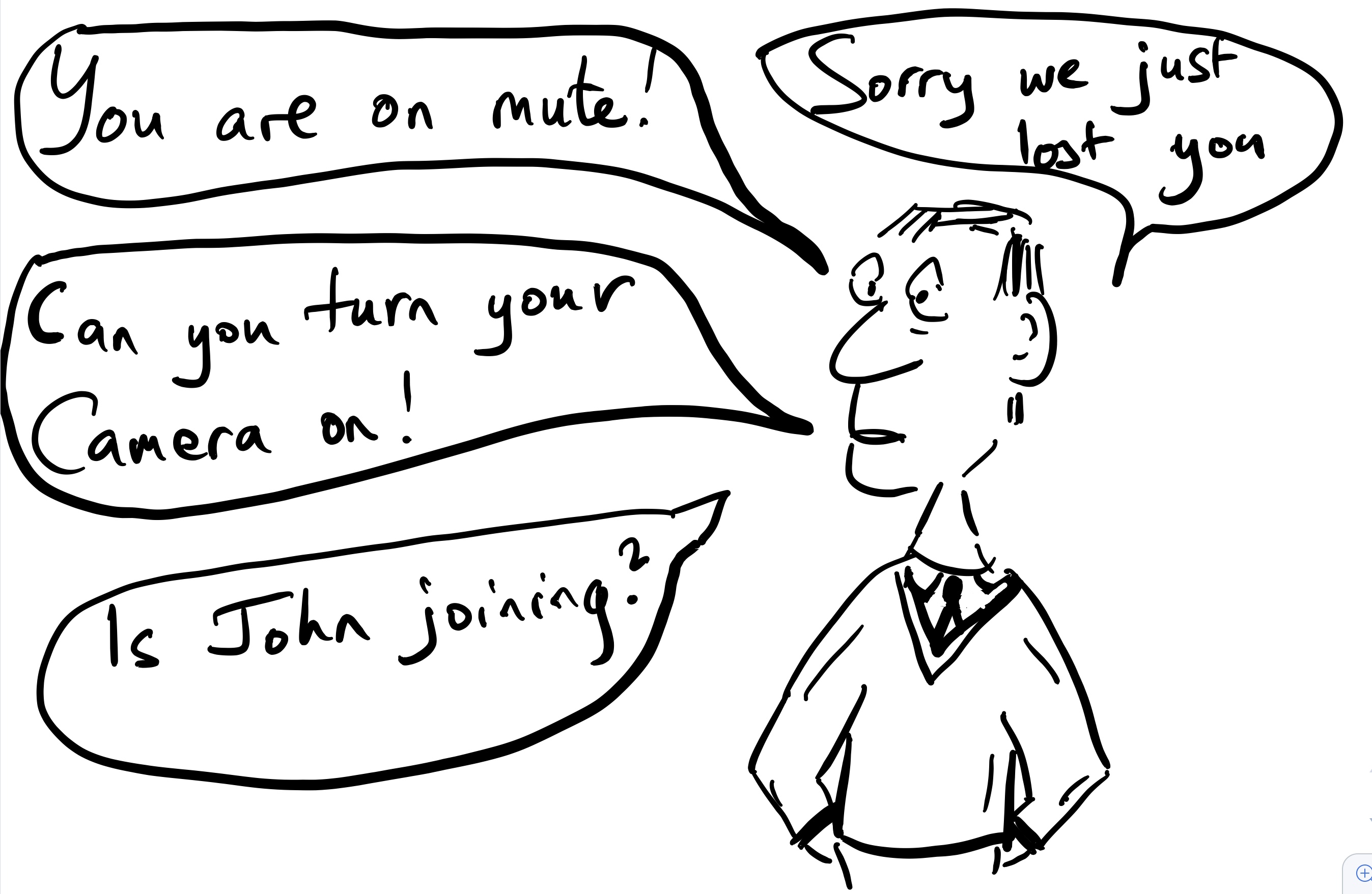 Before March 2020 I bet you, like most of the world, had never heard of the app Zoom. Now it is hard to imagine meetings without the option to mute. From interviews to first dates, video calling has become an every-day occurrence, but before lockdown most of us had had little experience in online etiquette. Is it okay to comment on your colleague's wallpaper? Or your boss's cat lying on their keyboard? Here is a list of some of the most common mistakes people make on a video call and how you can avoid them.
1. Check your internet connection 
Nothing is worse than trying to host a meeting where no one can hear what you are saying. To save yourself the anguish of watching your pixilated face glitch around the screen, check your audio and video settings before starting the call. Also sign into the call a good minute or two before it is scheduled to start, to give yourself time to work out any technical kinks if you have trouble getting into the meeting. 
Conference call Bingo sheet! #workingfromhome pic.twitter.com/ET9XAdGS4i

— Pascalle Grotenhuis (@PMGrotenhuis) March 15, 2020
2. Don't take them in the kitchen 
Working from home is new to a lot of us, and not everyone has their own swanky home office. But try and find a space where you are unlikely to get interrupted by children running around or someone making a cup of tea. If you can, find a quiet space without a busy background so your colleagues can concentrate on what you are saying and not the drawing of a dog on the fridge. If you have to use a communal room, pop on some headphones. 
my coworker just got promoted to assistant branch manager pic.twitter.com/qqz0KyQJ1C

— kitty stan account (@renaissancebtch) March 23, 2020
3. Don't wear pyjamas
Yes, you may have rolled out of bed 10 minutes before the call started, but it is hard to concentrate on profit margins when you are wearing snoopy pyjamas. It's important to try and stay professional in this new working environment, even if your office adopts casual wear. Also, you don't want your laptop to fall halfway through a meeting to reveal your Spiderman pj bottoms. 
When you're working from home, for focus and mental health it's really important to NOT just wear your pajamas! Wear yesterday's clothes you grabbed off the floor

— Jess Zimmerman (@j_zimms) March 13, 2020
4. Don't point the camera at your chin
You want to look like you know what you are doing, not like your 70-year-old mother-in-law trying to use Facetime. Make sure your camera is pointing towards your face and shows at least part of your torso. No one wants to speak to a floating head. Also, if you are calling on a mobile or tablet, make sure it is propped up and secure so you have free range of hand movement. And, you don't want it to fall halfway through a meeting to reveal your Spiderman pj bottoms.
me and my coworkers logging into all of our meetings remotely for the next couple of weeks pic.twitter.com/fpOYiHJLcl

— isha (@ikasliwal) March 9, 2020
5. Don't turn yourself into a potato
And finally, make sure you know what the settings are on the platform you are using and how to turn off any that you don't want. Yes, you can put on a background of the Golden Gate Bridge but it might not be the best idea if you are in a meeting with your investors. But if you do find yourself mutated into a carbohydrate, address it, own it, and move on. 
my boss turned herself into a potato on our Microsoft teams meeting and can't figure out how to turn the setting off, so she was just stuck like this the entire meeting pic.twitter.com/uHLgJUOsXk

— Rachele with 1 L & 2 E's but pronounced Rachel (@PettyClegg) March 30, 2020